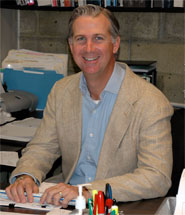 Steven Smith joined Hooper Construction in 2003 after spending 15 years as a Director of Store Development for the Polo Ralph Lauren Corporation. In his role at Hooper Construction, Steven is responsible for construction management. His pre-construction duties of cost estimating, budget analysis and value engineering are the first steps to ensuring a successful project. In addition, he is also responsible for project management, which includes the day-to-day operation of the project. He oversees and manages the on-site personnel, the project budget, and drives the construction schedule to ensure an on time completion. Steven is committed to understanding our clients' needs and dedicated to ensuring they are met.
He has professional experience with developing restaurants, schools, retail, condominiums, mixed-use commercial space, and self-storage facilities.
Steven attended Florida State University and participated in a co-op program with Florida A & M to earn a B.S. degree in Environmental Design & Management.